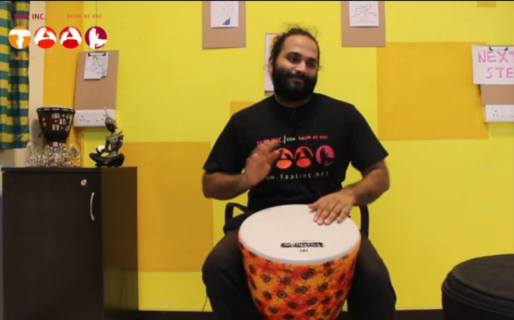 While going through our youtube channel, we came across this series of videos we've made sometime back. In this series, Varun Venkit reviews some amazing percussion instruments. These are instruments from Meinl (Viva Rhythm). Hailing from Germany, Meinl is one the world's leading manufacturers of percussion instruments. Viva rhythm is their dum circle range of instruments and we are proud to have our founder director Varun Venkit as the brand ambassador of Meinl Viva Rhythm in India. Without further ado, Let us share with you these fun yet informative set of videos. 
In here, we have the amazing, tried, tested and played on 14 inch djembe from  Meinl's Viva Rhythm Community Drum Circle range. A very versatile and powerful djembe that we've used endlessly at our Taal Inc. Community Drum Circles. A punchy bass instrument that can be carried along easily while traveling while not compromising on the sound quality one bit.
This next one is a personal favourite of mine and many percussion artists alike. The perfect example of small package but big surprise, The Meinl Lap Cajon cum Top Snare cum Bongo, Yes, all these in one tiny, fun instrument again from the Meinl Viva Rhythm series. If you're ever travelling with not a lot of storage space but can't leave your music behind, this is the one instrument you gotta have by your side.
If you're a Drum Circle Facilitator and thinking of getting your hands on some space savvy yet bass heavy set of drums, These Meinl Viva Rhythm Community Bass Series Drums are your best bet. These stackable drums, yes you heard that right, stack up and three of these amazing drums fit in one bag. We've even used them in our Corporate Team Building Events and trust us when we say this, these babies do what they promise, deliver a high quality powerful bass to any drum circle.
Whether you're a Rhythm Facilitator or someone who loves taking part in Group Drumming sessions, you know that having only bass drums can become quite flat after a while and that's exactly where this next drum fits in. The 12 inch djembe from the soft sound series from Meinl Viva Rhythm gives you that versatility of sound and yet blend in perfectly with all the other instruments in the session.
You've heard about Cajon, we also shared with you the lap cajon earlier in this blog but have you heard about CaiXoN and CaiXoNet. These are a set of some amazing hybrid percussion instruments from Meinl Viva Rhythm that allows you to change your playing position as compared to a cajon to a much more ergonomic and straight back posture and the sound, well, the sound is just like a regular cajon or maybe slightly better. 
Well, we hope you liked the above videos and if you feel inspired to play and learn drumming after watching these videos, get in touch with us and  we'd be delighted to get you started on your drumming journey. Happy Drumming!
-Aman Joshi
Taal Inc. Drum Circle Facilitator.

Aman Joshi is a drum circle facilitator with Taal Inc., a travel experience curator/facilitator, an avid traveler, cinema enthusiast, and a foodie. Read more about him Click Here