Drum Circles for Private Get-Togethers, Birthdays, Anniversaries, Kitty-Parties and Theme-Based Gatherings
What is a Drum Circle?
A drum circle is an activity where a group of people come together in a circle and, led by a facilitator, drum, sing and create music together using a wide range of percussion instruments.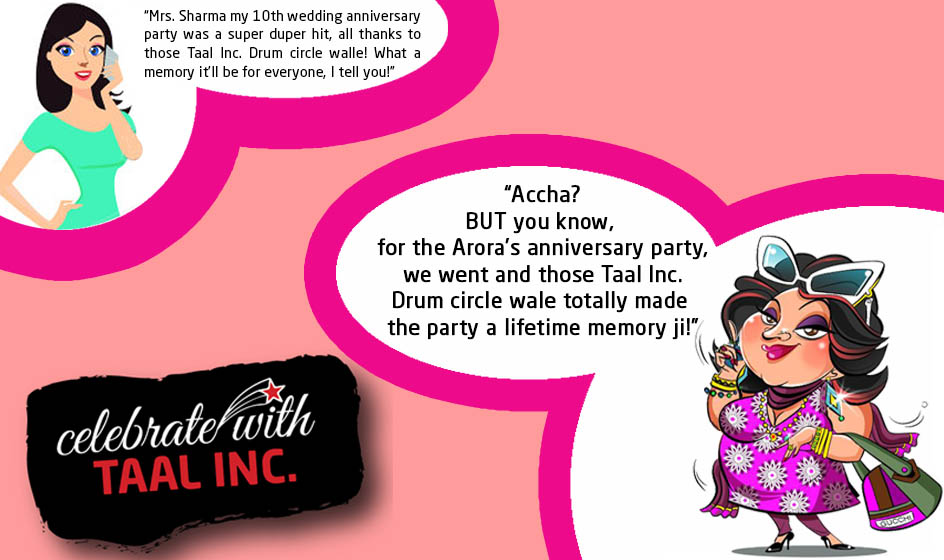 Bring in your Family Get-Togethers…
…Diwali Celebrations | Rakhi Events | Navratri Society Gala Nights with Taal Inc!
Be it a birthday, an anniversary or another special milestone in the lives of your loved ones… Make a memory that will never be lost – Celebrate with a high-energy, interactive Taal Inc. drumming session.
Tailor-made to guarantee absolute and unadulterated fun for each one of you, group interaction, 100% participation, utter joy and relaxation are just some of the added benefits of being a part of a Taal Inc. drum circle. Leave your guests spellbound and let your party be a topic for conversation for weeks to come.
Sit together with your family and friends and drum the night away. Partake in an interactive event like no other, that will leave your hands tingling and hearts buzzing with rhythm, love and a sense of togetherness.
Celebrate With Taal Inc.: Drum Circles for Private Events and Gatherings