The Musical Brainchild of Varun Venkit and Taal Inc.'s SUPER band!
Taal Inc. & Friends is a band featuring some of the country's finest musicians and that plays traditional West African folk tunes in a contemporary and modern way.
Listen to our first single 'Bele Bele' (which means big personality in 'Malinke', a language from West Africa) on all major streaming platforms:
It is an amalgamation of traditional West African folk songs, afro rhythms, percussive melodies, groovy basslines and devastatingly exploratory improv sections. All in all – it is a treat for every kind of listener. Each song tells a story that is new, dynamic, inclusive, dancy and a whole lot of fun.
The first song titled 'Bele Bele', launched on 22.11.2020, features:
Kalpana Patowary –
Lead Vocals
Also known as the 'Bhojpuri Queen', Kalpana Patowary is a well-known playback and folk singer from Assam. She has a deep love for and knowledge of North East Indian folk songs and her voice has become synonymous with the voice of Indian folk music. She has not only featured in many Bhojpuri albums, but also off late, in many independent music releases.
Megha Bhardwaj –
Backing Vocals
Megha Bhardwaj is a singer / songwriter by day, a dreamer by night. She fights the evil forces of reality, bent upon realizing her dream of having everyone humming her songs to bed (or dancing to them in their dreams).
Ramya Iyer –
Backing Vocals
Ramya Iyer is a well-known playback singer from Mumbai who sings both covers and also original music.
Taal Inc. & Friends | The band comprises:
Varun Venkit –
Concept, Djembe and Voice
Varun Venkit is a drummer, percussionist, and djembe player who has spent over a decade going to the depths of understanding the rhythmic world of the Mandingue or traditional West African percussion. He sowed the seeds of spreading the traditional djembe technique in India through educative and performance methods since 2010. Through his brainchild 'Taal Inc. & Friends' he aims to celebrate his love for rhythms and folk tunes from West Africa and India.
Sanjay Divecha –
Composer and Guitars
Sanjay Divecha is one of the most revered guitar players in India – a unique and compelling voice as a player and composer. An intrepid traveler on a long journey filled with experiences, Sanjay's quest has brought him face to face with legends, visionaries, and doyens. Sanjay is a part of the hugely successful supergroup CROSSCURRENTS  led by Zakir Hussain and featuring stalwarts such as Dave Holland, Chris Potter, Shankar Mahadevan, Louiz Banks, and Gino Banks.
Gandhaar Amin –
Flute and Backing Vocals
Gandhaar Amin is an extraordinary flute player, composer and producer from Pune. He has been trained in the hindustani classical flute (Bansuri) since a very young age by his guru and father Nitin Amin. This roots him firmly and gives him the ability to understand both metaphors of Indian classical and westrern or modern music and navigate freely between these genres.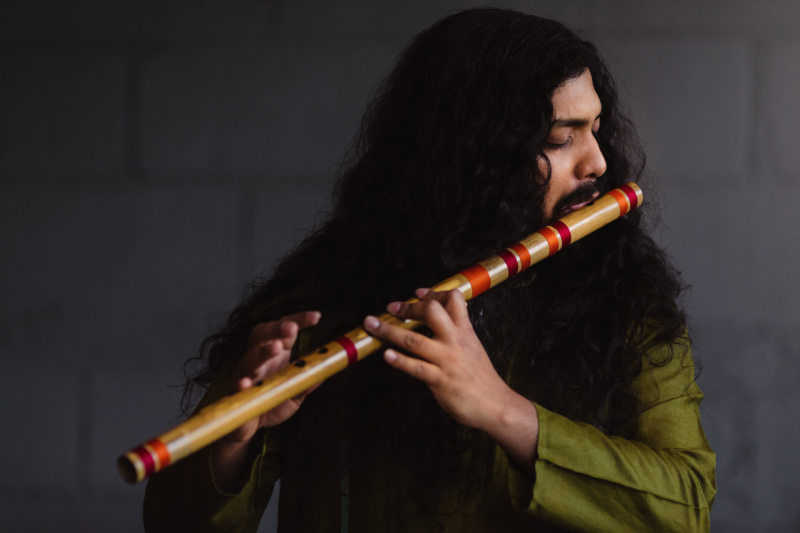 Gino Banks –
Drums
Gino Banks is one of the most talented, versatile and sought after drummers in India. He has played nationally and internationally with the best names in the music industry and has carved a niche for himself as a professional par excellence. He is the son of legendary pianist Louiz Banks and we are proud to have him as a part of the Taal Inc. and Friends project.
Sheldon D'silva –
Bass Guitar
Sheldon D'silva is the first name that comes to mind when one thinks of bass players in India. Apart from being a virtuous bass player, he is also a composer and producer based in Mumbai. He has played with many indie and mainstream artists in India and the world staying true to his motto 'All you gotta do is groove!'.