The Musical Brainchild of Varun Venkit and Taal Inc.'s SUPER band!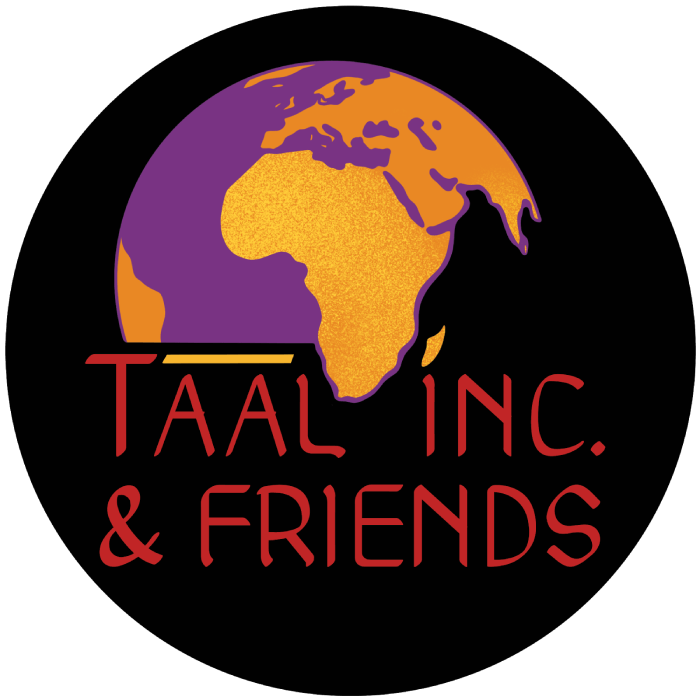 Click the Logo to Download the Band Press Kit
Taal Inc. & Friends is a band featuring some of the country's finest musicians and that plays traditional West African folk tunes in a contemporary and modern way.
This project is an amalgamation of traditional West African folk songs, afro rhythms, percussive melodies, groovy basslines and devastatingly exploratory improv sections. All in all – it is a treat for every kind of listener. Each song tells a story that is new, dynamic, inclusive, dancy and a whole lot of fun.

Check out our next single (that launched on 12.12.2021) titled 'Yankadi Makru' on a streaming platform of your choice:
Yankadi Makru is a rhythm of the 'Susu' ethnic group from Forest (South-East) Guinea. This set of two rhythms is collectively known as the 'rhythm of courtship' or seduction. As Grandmaster Djembefola Famoudou Konate cheekily said, "Many marriages have taken place as a result of Yankadi Makru celebrations…" Once all the young people of the village would come together in the Bara, (village centre) the boys and girls would gather on either side. During the slow rhythm (Yankadi) the boys and girls would dance beautifully and 'show-off' their skill. Traditionally, the boy would place a scarf on the girl that he was interested in. When the rhythm changed to the fast one (Makru) the couples would pair up and dance with joy and gusto. 
The song comprises three languages: Susu, Japanese & English. Yankadi Makru sings about the source of all things – love; about falling in love organically, effortlessly and no matter what challenges life brings you, there's always a way to find & nurture the spark that eventually shines brilliantly. All we need to do is listen, have faith, enjoy the process, and dance our way to each other. This song is a dedication to Varun's wife and partner in crime, Akshata Parekh. 
In our take of this song we feature the well known band of singers from all across the globe, 'Women of the World'.
Women of the World is an ensemble that is made up of Ayumi Ueda (Japan), Annette Philip (India), Debo Ray (USA) & Giorgia Renosto (Italy). They are supremely talented musicians from different corners of the globe that mostly congregate in Boston. By making music together, they have made a beautiful friendship. In this spirit, they celebrate the beauty of diversity. They sing for not just tolerance, but wisdom, respect, and joy. They, as Women of the World, believe in the power of music, in their bond and in peace.
Read more: https://womenoftheworldmusic.com/
'Kotedjuga' featuring MC Artslord by Taal Inc. & Friends

Check out our next single (that launched on 18.7.2021) titled 'Kotedjuga' on a streaming platform of your choice:
Kotedjuga is a Malinke rhythm from the border region of Guinea and Mali that refers to jesters or clowns who would appear suddenly at a wedding ceremony to deliberately make people laugh and hence 'disturb' the proceedings. They would be given a monetary token to leave. This behaviour was culturally accepted; very similar to some ethnic groups in India.
Through this groovy song the band fuses a traditional West African folk (Malinke) song with an edgy Tamil rap that sings about removing our masks of pretence, hate, ignorance, greed, injustice, ego, judgement & fear.
Kotedjuga features the young & talented rapper from Dharavi: MC Artslord
MC Artslord a.k.a. Kalaivanan Kannan is a young and multi talented artist from Dharavi, India. He is a rapper, beatboxer, lyricist and actor. He is highly influenced by the underground rap and hip hop scene in Malaysia. Through his music he speaks about his beginnings, reality, surroundings and elements that makes him the well rounded artist that he is; with his feet planted firmly on the ground and eyes set on the horizon. He is a part of the famous Ta Dhom project that is led by mridangist and senior percussionist Viveick Rajagopalan and has performed nationally and internationally.
Read more: https://www.facebook.com/Mcartslord
'Kassa' featuring Vasundhara Vee by Taal Inc. & Friends
Check out our next single (that launched on 1.5.2021) titled 'Kassa' which literally means 'Granary' in the West-African language, Malinke; on a streaming platform of your choice:
We are all going through unprecedented times and this is our way to remind ourselves of what we have, count our blessings and wish prosperity on one and all. May this song provide you the courage to smile, breathe easy and continue moving forward with love, dignity and kindness.
Kassa has a special artist on lead vocals and features
Vasundhara Vee –
Lead Vocals
Vasundhara Vee is a singer and vocal coach par excellence. She is a bankable name in the Western space in our country. She is seen in the finest Soul, RnB and Jazz ensembles in the capacity of both Collaborator and Curator. You have seen her perform at every premier venue in India and on diverse stages in France, Turkey, Bulgaria, Malaysia, Dubai, Singapore collaborating with artists from across the globe.
'Bele Bele' featuring Kalpana Patowary by Taal Inc. & Friends
Listen to our first single 'Bele Bele' (which means big personality in 'Malinke', a language from West Africa) on all major streaming platforms.
Bele Bele comprises three languages: Malinke, Assamese and Tiwa (a Tibeto-Burman language of North East India). Traditionally this song would be sung in honour of a 'Big Personality' from a village or such a dignitary who would be visiting a village. This song is a dedication to Varun's father who is a source of motivation and strength for him. In this way, this song can be played in memory of anyone who is an inspiration to you regardless of whether they are physically around or not. Happy listening!
The first song titled 'Bele Bele'
(which launched on 22.11.2020), features:
Kalpana Patowary –
Lead Vocals
Also known as the 'Bhojpuri Queen', Kalpana Patowary is a well-known playback and folk singer from Assam. She has a deep love for and knowledge of North East Indian folk songs and her voice has become synonymous with the voice of Indian folk music. She has not only featured in many Bhojpuri albums, but also off late, in many independent music releases.
Taal Inc. & Friends | The band comprises:
Varun Venkit –
Concept, Djembe and Voice
Varun Venkit is a drummer, percussionist and a djembe player who has spent over a decade going to the depths of understanding the rhythmic world of the Mandingue or traditional West African percussion. He sowed the seeds of spreading traditional djembe technique in India through educative and performance methods since 2010. Through his brainchild 'Taal Inc. & Friends' he aims to celebrate his love for rhythms and folk tunes from West Africa and India.
Sanjay Divecha –
Composer, Arrangers, Producers, Guitars and Keys
Sanjay Divecha is one of the most revered guitar players in India – a unique and compelling voice as a player and composer. An intrepid traveler on a long journey filled with experiences, Sanjay's quest has brought him face to face with legends, visionaries and doyens. Sanjay is a part of the hugely successful supergroup CROSSCURRENTS led by Zakir Hussain and featuring stalwarts such as Dave Holland, Chris Potter, Shankar Mahadevan, Louiz Banks and Gino Banks.
Gandhaar Amin –
Flute and Backing Vocals
Gandhaar Amin is an extraordinary flute player, composer and producer from Pune. He has been trained in the hindustani classical flute (Bansuri) since a very young age by his guru and father Nitin Amin. This roots him firmly and gives him the ability to understand both metaphors of Indian classical and westrern or modern music and navigate freely between these genres.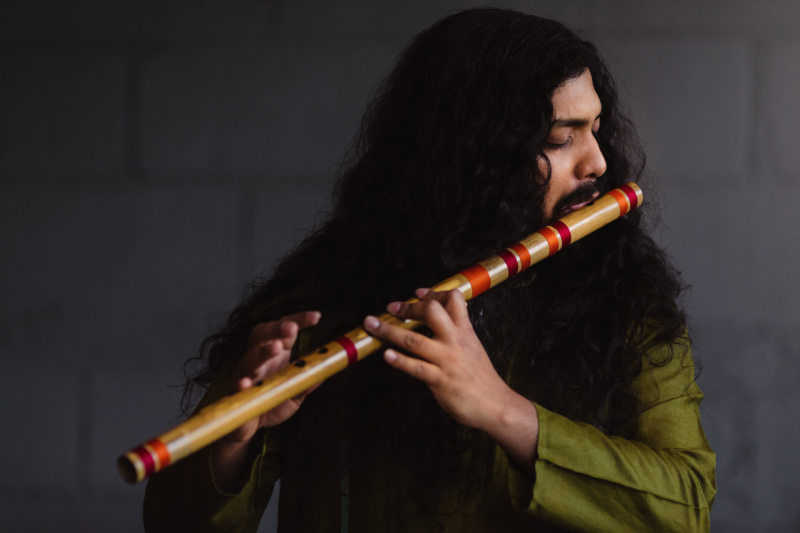 Gino Banks –
Drums
Gino Banks is one of the most talented, versatile and sought after drummers in India. He has played nationally and internationally with the best names in the music industry and has carved a niche for himself as a professional par excellence. He is the son of legendary pianist Louiz Banks and we are proud to have him as a part of the Taal Inc. and Friends project.
Sheldon D'silva –
Bass Guitar
Sheldon D'silva is the first name that comes to mind when one thinks of bass players in India. Apart from being a virtuous bass player, he is also a composer and producer based in Mumbai. He has played with many indie and mainstream artists in India and the world staying true to his motto 'All you gotta do is groove!'.