The Taal Inc Facilitator and Teacher Training Program through the eyes of Sneha, our petit and perky volunteer:
So, it started out with the other interns and I calling psychologists, corporate trainers, school teachers, therapists and just about anyone working with a group either individually or in institutions from all over India asking one question…
'Hi, I'm Sneha calling from Taal Inc and we are offering the Taal Inc Facilitator and Teacher Training Program. Would you be interested in knowing more about it?' upto the point where we would almost say that everytime we would pick up a phone. Some people entertained us and some just replied back saying 'Nahi hume interest nahi hai is nach gaane mein!' despite informing them about how useful this programme would be. Like anything in life, the process had its highs as well as lows!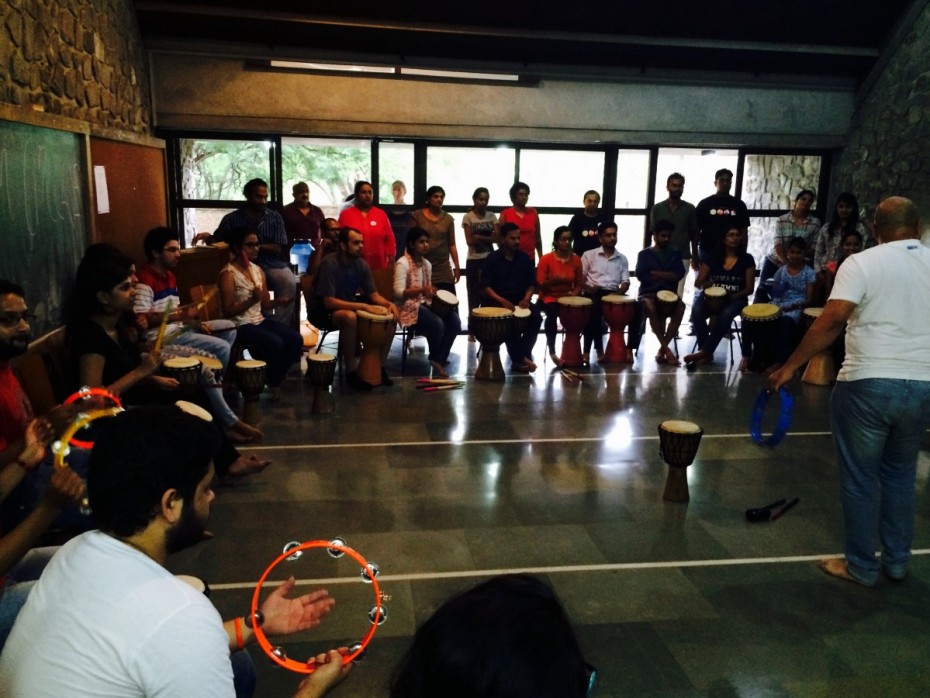 One day, when we were done with calling people, we took a count of how many people were interested in joining us for the course (which is a one of a kind course in India) and it was a whopping 21 people for level 1. These included many people from Delhi, Bangalore, Mumbai, Pune and even the United States who had started the TIFFTP journey with the foundation course and took the step to continue to Level 1. Honestly we hadn't even expected so many people to be interested, and it was such an awesome surprise! Finally there would be trained drum circle facilitators to be able to spread the use of this medium properly in a structured fashion through a  Djembe Circle as to opposed people who buy drums and start jumping up and down in the middle of a circle thinking that's what facilitation is… #facepalm
Finally, the 15th of July arrived and the moment we stepped into CDSA, we were extremely blown away. At once we felt so energized by the atmosphere that CDSA provided with its abundance of greenery and serenity. Not to mention the staff was absolutely delightful! After setting up, one by one the participants showed up, looking so thrilled to be there. Each participant, and his or her story was so unique and inspiring that I could not help but get a gut feeling that these 5 days are going to be extremely fun and insightful as well.
Each day, early in the morning, we would start out with a warm up drumming session with our Drum Group which would put everyone including us team members in a bubble of positivity. This bubble never popped and stayed intact during the theory lectures, the drum circles, meals, etc. Not even when something or the other went wrong. I am personally not a drummer, and did not even know the first thing about drumming, but I learnt so much. Also, as a psychology student, I got such huge area to explore how psychology fits into every area of life through music, which, I now realize, that we really take for granted.
I think I talk a lot, so I guess I'll end here by just saying, these 5 days have been very influential for me. It was an amazing experience for me and I got to meet some very new inspiring and wonderful people who taught me that anything, at any point of life is attainable. All you have to do is believe in it and work for it. These 5 days also strengthened my bond with my team members and made us more of a family than friends, and I wouldn't have it any other way. 🙂

Varun is the founder and director of Taal Inc.
The visionary behind the motto
Come. Drum. Be One.
To read more about him Click Here