TTMDA: Monterrey 2015: Special Teacher's Workshop: More Rhythms, Assessments, Discussions and a Weekend Full of Fun:
By now, ladies and gentlemen, I have fallen in love with Monterrey. There is a certain something about this place that is surely very attractive… It could be a perfect mix of the people, the food and finally, the fact that I am with some of the most talented and intelligent djembe minds in the world with the Grandmaster Mamady Keita himself is like the icing on the cake.
I think it might be worth mentioning that I am supremely inspired to learn Spanish. I have already downloaded a 'Learn Spanish' app on my phone and will start classes with an actual teacher soon…
The rhythms for our Djembe Drum Lessons we studied over the next couple of days were:
1. Djigui – Which literally means 'Hope'. This is baba's way of reminding people to never lose hope and to always aspire for the stars. The djembe accompaniment 1 for this rhythm is such a treat to learn and play… *goes into a little dance*
2. Dubalen – Dubalen- Mamady Keita original rhythm about the all-important Dubalen tree under which traditionally, the village elders met and made important decisions
3. Mishima – This is a very groovy rhythm that baba played in honour of 'his little Japanese village', 'Mishima'. We learned the pyramid introduction as well, which is nothing short of excellent.
4. Sarankein – This rhythm is best explained by imagining a conversation between one woman and another in a gathering surrounded by a (pardon my use of judgmental words) bunch of losers.
Girl: "You (beautiful one) come on, let's go, because beauty cannot be rented (or bought) and this (situation / these people) do not deserve your beauty…"
Interesting, right? This is why I mean that the study of djembe is the study of West-African, Mandingue culture.
5. Sewa – Mamady's rhythm which literally means 'Joy'.
6. Yelena – This rhythm means… "Smile to me please" (Once again imagine a boy saying this to a girl he loves…)
NOTE – All of these rhythms can be learned via Djembe Lessons in Mamady Keita's new book "Nankama"; exclusively available with Taal Inc. Please write to varu[email protected] to purchase Nankama and the TTM curriculum book 1!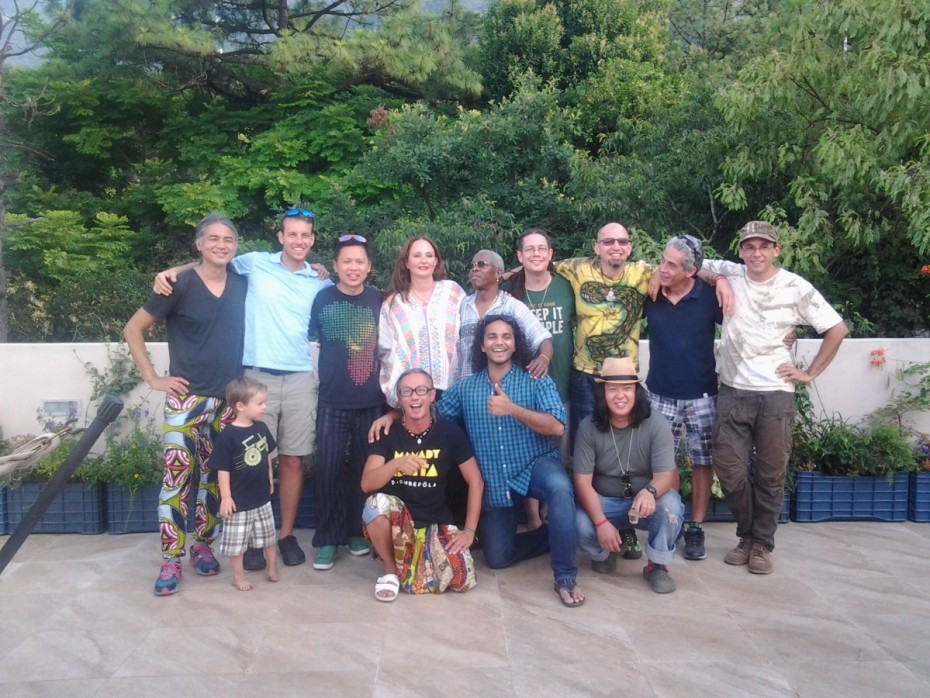 In addition to the African Drumming Classes we reserved 90 minutes per day for the TTM conference. Here is where we would discuss the realities of the djembe scene in our various countries and plan how to move forward preserving the #TTMDA signature of quality, authentic transmission of Mamady Keita's culture, philosophy and mission. This what separates us from the rest of the djembe teachers and players of the world… Apart from being top-notch players and teachers we share a commitment to of course, Mamady Keita and what we now call, the Tam Tam Mandingue Experience!
At this moment, I remember what baba said to us… "You are all now masters, play like one… Crazy on the outside but calm on the inside!"
After a week full of rhythm and discussions, we were all looking forward to an adventurous weekend in Monterrey. This started with brothers Pierre Chaillan and Jeremy Tomasck taking the Senior Certificate test with Mamady Keita. Now these two cats have spent more than 2 decades with baba and hence this was just a formality but since the introduction of new TTMDS structure, this shall be our fate soon… You can find the requirements of the TTM path of progression here.
I have started preparing for my test and will keep you posted on how that progresses…
Here's wishing a heartfelt congratulations to Jeremy and Pierre for having passed their Senior Certified Teacher tests. Your playing, your sounds, your improv techniques and your personalities are something we learn a lot from!
To celebrate out collective victory we visited Termas St. Jauquin or the hot Sulfur springs (with temperatures ranging from 104 degrees F to 107 degrees F) just outside of Monterrey. This was a beautiful experience that was just the therapy that out bodies and minds needed; preparing us for our last week in Monterrey with the master!
Come. Drum. Be One.
Taal Inc.
Varun Venkit

Varun is the founder and director of Taal Inc.
The visionary behind the motto
Come. Drum. Be One.
To read more about him Click Here